Find them at: Unit 19, Central Station, 79 Gordon St, Glasgow G1 3SQ
What it's all about:
Alston Bar & Beef is located in a unique setting, within the underground arches of Glasgow Central Station. Serving up quality steak, sourced from the Tweed Valley in the Scottish Borders, this venue also offers its customers a large selection of must try Scottish gins.
Example* 'Food Hero' starter dish:
Diamond steak with potato skin bhaji and coriander stem chutney
What makes it a Plate up for Glasgow 'Food Hero' dish? 
The Diamond Steak is a relatively new cut of beef, not normally known to customers and can often be discarded. It has beautiful subtle flavours and when treated and cooked well, this steak resembles a fillet or single muscle rump. The potato skins are left over from the mash on their a la carte menu, while the coriander stems come from coriander used in garnishes.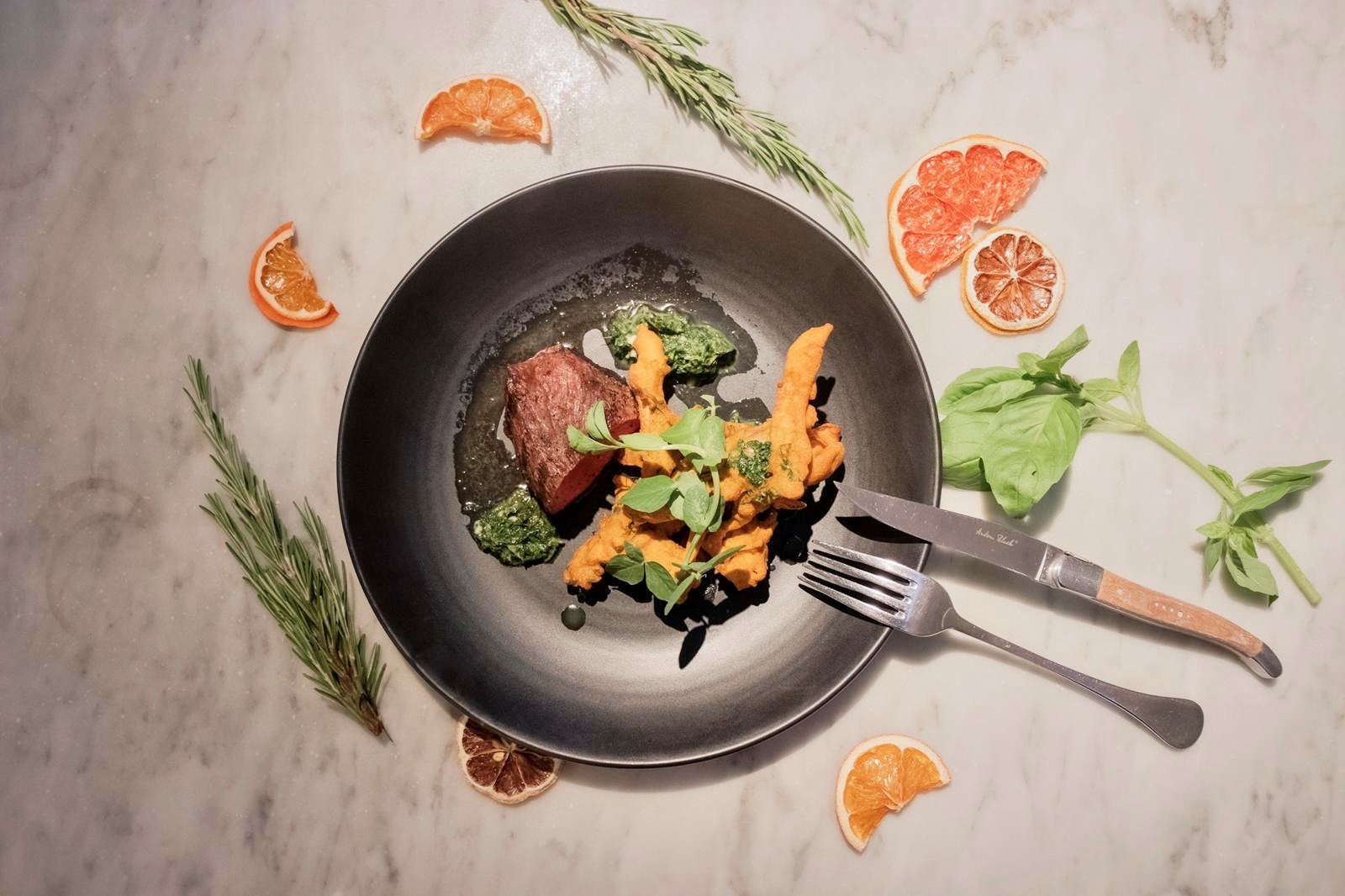 "Alston Bar & Beef is keen to be part of Plate up for Glasgow providing an opportunity to showcase our use of quality local produce, and beef sourced from sustainable farms from the Tweed Valley in the Scottish Borders. From a business perspective, it's imperative for us to reduce food waste since our margins are so tight. With social and environmental responsibility forefront of mind, we're also keen to do everything we can to recycle and repurpose as much left over produce as feasible."
- Nicol Robertson, Development Chef, Alston Bar & Beef
Please bear in mind...
*Dining options showcased on the Plate up for Glasgow site are examples only, and are subject to change.
Please bear in mind that as a food waste campaign that focuses on using surplus ingredients, dining options may change regularly. We think this is something that should be celebrated – although it does make it difficult to know in advance which options you'll be able to choose  from, or their availability. So when it's gone, it's gone. And when it's gone, there's no waste!
Participating venues are responsible for showcasing their own daily dining offers throughout the campaign period. We would strongly recommend contacting them directly to confirm details and availability before your visit to avoid disappointment.
Due to the nature of this campaign, catering for all dietary requirements may be limited. However, we have done our best to cater for as many needs as we can.
And of course, dining options are never created with ingredients that are past their sell-by date. "Leftover" food is just food that is surplus or unsold, which unfortunately happens all too often along food supply chains.