Find them at: 71-77 Byres Rd, Glasgow, G11 5HN
What it's all about:
Embargo has made a home for itself on the bustling Byres Road, treating West Enders and weekend trippers to a taste of Asian street food. The menu is sure to cover any craving you could possibly have, from street-food small plates to classic bao buns, burgers and ramen.
Example* 'Food Hero' dish:
Sweet and spicy crispy chicken feet with pickled mushroom and congee broth.
What makes it a 'Food Hero' dish?
In a venue with several chicken dishes on the menu, and whole birds prepped in house from scratch, that leaves a lot of chicken feet! Embargo are going nose-to-toe for Plate up for Glasgow and bringing the popular Asian dish of crispy chicken feet to the West End. Sound a bit much for you? Go on. We're from the country that gave the world haggis! The dish is served as a shitake mushroom broth, full of flavour from a vegetable trim and dried mushrooms stock.  To finish it off, the dish is topped with pickled mushrooms – which sees the dried mushrooms normally discarded after flavouring the stock given a new lease of life.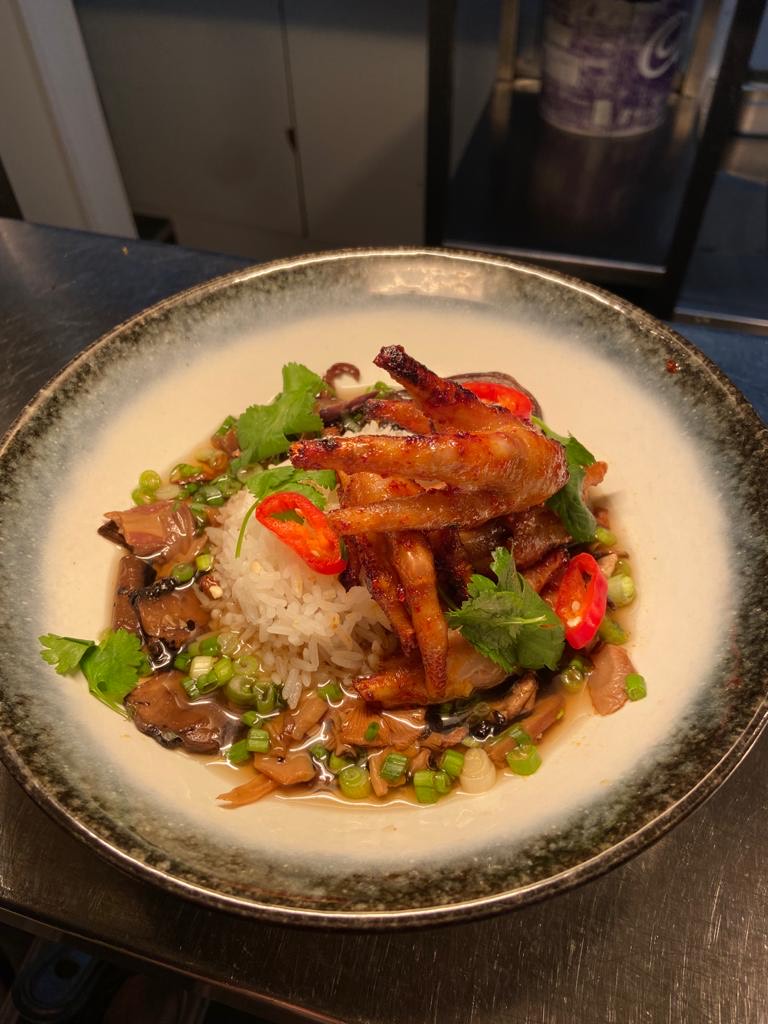 "At Embargo we were eager to be involved in Plate up for Glasgow as we have always practiced methods of being as sustainable as possible.  This campaign is a fantastic way to showcase this."
- Callum Raymond-Young, General Manger, Embargo
Please bear in mind...
*Dining options showcased on the Plate up for Glasgow site are examples only, and are subject to change.
Please bear in mind that as a food waste campaign that focuses on using surplus ingredients, dining options may change regularly. We think this is something that should be celebrated – although it does make it difficult to know in advance which options you'll be able to choose  from, or their availability. So when it's gone, it's gone. And when it's gone, there's no waste!
Participating venues are responsible for showcasing their own daily dining offers throughout the campaign period. We would strongly recommend contacting them directly to confirm details and availability before your visit to avoid disappointment.
Due to the nature of this campaign, catering for all dietary requirements may be limited. However, we have done our best to cater for as many needs as we can.
And of course, dining options are never created with ingredients that are past their sell-by date. "Leftover" food is just food that is surplus or unsold, which unfortunately happens all too often along food supply chains.