Vegan, Asian small plates
Find them at: 171 Great Western Rd, Glasgow G4 9AW
What it's all about:
The Hug and Pint has everything from craft ales that you'd expect from a cosy local, to a daily changing vegan small plates menu, offering some of the tastiest Asian inspired dishes in town. And if that isn't enough for you, why not check out who's the next guest band to play in their downstairs gig space? As a local favourite for well-established and up-and-coming bands alike, the Hug and Pint is sure to show you a good time, no matter your music genre. 
Example* 'Food Hero' dish:
"Revolving" ramen 
What makes it a 'Food Hero' dish? 
The Hug and Pint's ramen stock always uses scraps from onions, ginger, garlic, lemongrass, and galangal, ensuring that even the smallest of prep offcuts find their way into the pot. Making use of the additional veg that's around that day, expect their revolving ramens to be full of goodies like fried cauliflower leaves, julienned broccoli stems and pickled seaweed, in broths ranging from 'miso mushroom' and 'sesame and chilli', to 'coconut and turmeric'. We love that Hug and Pint's menu changes daily, making the most of seasonality and availability.
---

Example* 'Food Hero' dish:
Kimchi
What makes it a 'Food Hero' dish? 
For thousands of years, people have been making fermented foods like kimchi as a way to preserve fresh vegetables and it's a great way to use up food scraps like carrots, apples and even pears. Hug and Pint's kimchi recipe is fairly traditional, made from Chinese cabbage and daikon radish, and can keep for a very long time if made and stored correctly - although theirs rarely lasts more than a few days as it's such a popular menu item!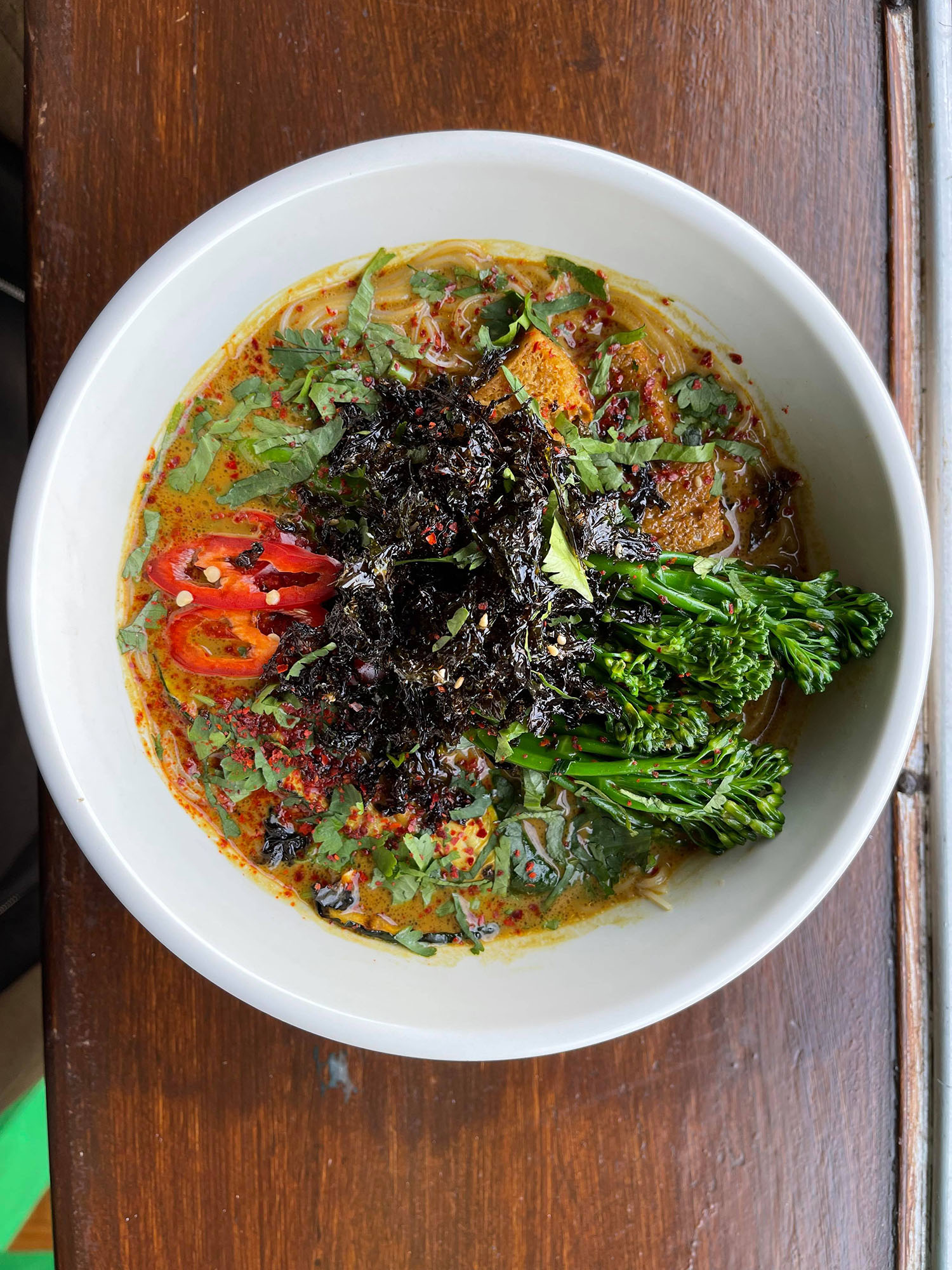 "We are always looking for ways to reduce food waste and try to operate as sustainably as possible. Our kitchen is quite small which necessitates being thoughtful about how much food we order and prepare. We keep our food waste to minimum by using food scraps to make stock. We also use food preservation techniques like pickling, including pickled cucumber, red onion, beansprouts, wakame seaweed, ginger and carrots". 
-  Erfan Shojanoori, General Manager, Hug and Pint 
Please bear in mind...
*Dining options showcased on the Plate up for Glasgow site are examples only, and are subject to change.
Please bear in mind that as a food waste campaign that focuses on using surplus ingredients, dining options may change regularly. We think this is something that should be celebrated – although it does make it difficult to know in advance which options you'll be able to choose  from, or their availability. So when it's gone, it's gone. And when it's gone, there's no waste!
Participating venues are responsible for showcasing their own daily dining offers throughout the campaign period. We would strongly recommend contacting them directly to confirm details and availability before your visit to avoid disappointment.
Due to the nature of this campaign, catering for all dietary requirements may be limited. However, we have done our best to cater for as many needs as we can.
And of course, dining options are never created with ingredients that are past their sell-by date. "Leftover" food is just food that is surplus or unsold, which unfortunately happens all too often along food supply chains.