Find them at: 26 Bell Street, Glasgow, G1 1LG
What it's all about:
Situated in the heart of Glasgow's Merchant City, Mharsanta offers their guests warm Scottish hospitality and a genuine taste of Scotland. They have a passion for using seasonal and locally sourced Scottish produce which take pride of place on their home cooked, traditional menu. Mharsanta also have a dedicated policy in place to work with local suppliers where possible, so you can rest assured you'll be sampling some of the freshest, best quality food and drink in a sustainable manner.
Example* 'Food Hero' main dish:
Baked roquette pesto Scottish salmon, potato dauphinoise and ratatouille 
What makes it a 'Food Hero' dish? 
The homemade pesto makes use of surplus roquette leaves that didn't make it into a salad, but are still full of colour and flavour. Turning the roquette into a pesto is a clever and versatile way to give salads a makeover while injecting a burst of flavour into a dish. The ratatouille also makes use of the whole vegetable, showing some love to tops and tails that are often discarded despite being delish.
---

Example* 'Food Hero' dessert dish:
Homemade Bread and Butter Pudding
What makes it a 'Food Hero' dish?
This bread a butter pudding is a classic Plate up for Glasgow example of how to save food that is near the end of its life but far from being consigned to the bin. Day old bread soaks up all the flavours of local butter, cream and a good slug of Drambuie like a sponge, and is guaranteed to make you feel warm and cosy as the nights draw in.
---

Example* 'Drink Hero' cocktail:
Makar's Muse (Makar Glasgow gin, peach liqueur, blackberry and mint shrub, and soda)
What makes it a 'Drink Hero' cocktail?
Leftover wine from open wine bottles is turned into a homemade wine vinegar, which is infused with bruised and softening fruits and wilting herbs, that can no longer be used as a garnish. This is an innovative way of using commonly wasted bar items and transforming them into a whole new ingredient. This blackberry and mint shrub adds a distinctly sharp and fruity note, paired perfectly with the flavours of gin and peach.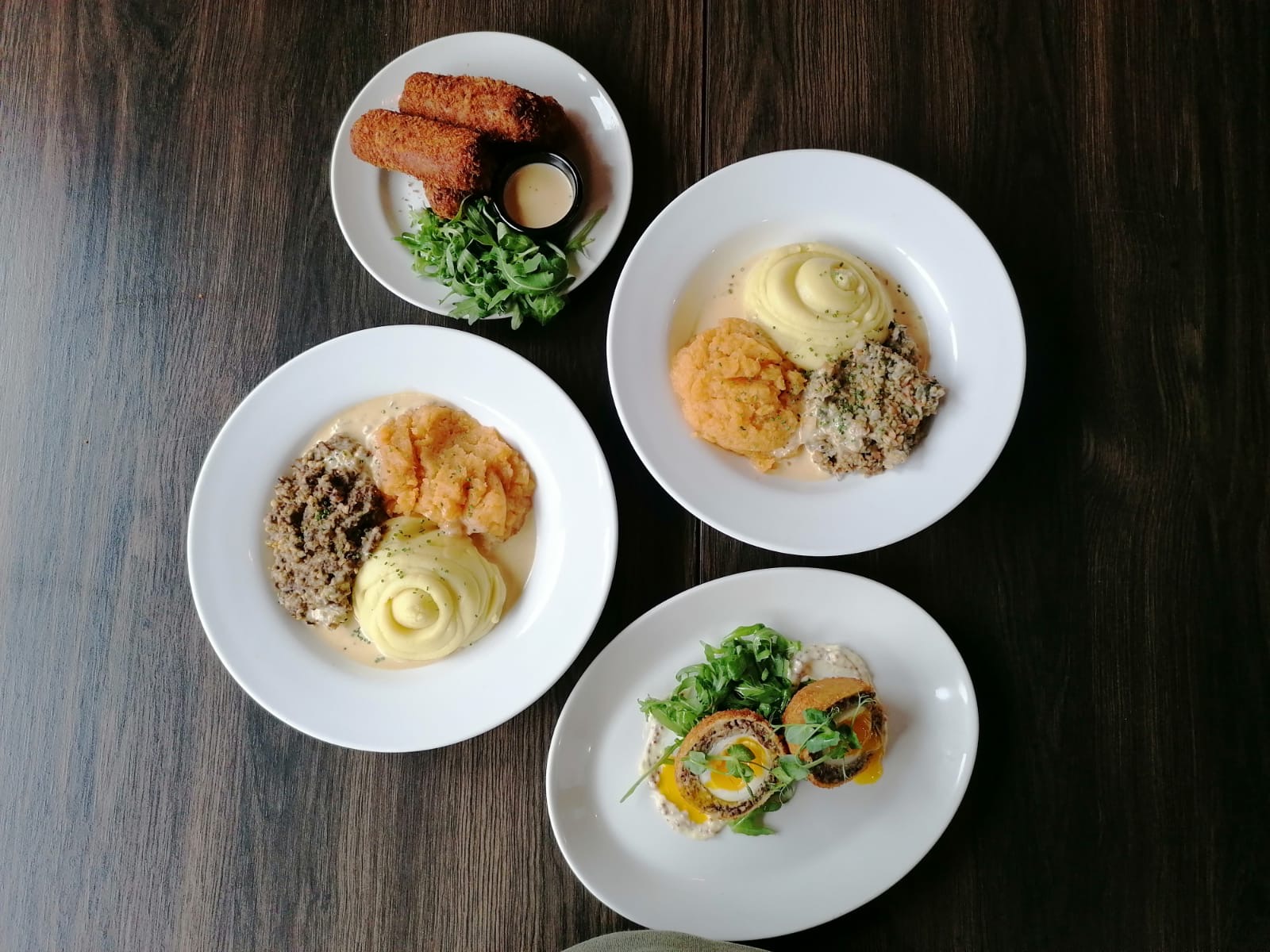 "As a small organisation, we are very aware of sustainability and the impact our business will have on future generations. Mharsanta is delighted to be taking part in Plate up for Glasgow and offering our guests a zero-waste dining option, highlighting the importance of reducing food waste within the hospitality sector.
We look forward to working in collaboration with our suppliers, reinforcing practices through our buying procedures, and promoting relationships with environmentally aware suppliers.
It is time to actively look at our own sustainability policies fuelling our ambitions to become more sustainable by taking steps to reduce our own carbon footprint, food wastage and how better to optimise our procedures."
- Derek Mallon, Managing Director, Mharsanta
Please bear in mind...
*Dining options showcased on the Plate up for Glasgow site are examples only, and are subject to change.
Please bear in mind that as a food waste campaign that focuses on using surplus ingredients, dining options may change regularly. We think this is something that should be celebrated – although it does make it difficult to know in advance which options you'll be able to choose  from, or their availability. So when it's gone, it's gone. And when it's gone, there's no waste!
Participating venues are responsible for showcasing their own daily dining offers throughout the campaign period. We would strongly recommend contacting them directly to confirm details and availability before your visit to avoid disappointment.
Due to the nature of this campaign, catering for all dietary requirements may be limited. However, we have done our best to cater for as many needs as we can.
And of course, dining options are never created with ingredients that are past their sell-by date. "Leftover" food is just food that is surplus or unsold, which unfortunately happens all too often along food supply chains.