Find them at: 12, Kings Court, King St, Glasgow G1 5RB
What it's all about:
Mono is a vegan café bar situated in Merchant City that has garnered a strong reputation for serving the people of Glasgow quality food and drink for the past two decades. Mono also hosts a great range of gigs and events, and shares its space with Monorail Music – one of our city's most loved independent record stores. Mono proudly offers all of this, and more, with an ethical and community led ethos at its heart.
Example* 'Food Hero' dish:
Tofish taco: Baha battered tofu, miso pickled cabbage, diced tomatoes, 'feta' cream, shatta.
What makes it a Plate up for Glasgow 'Food Hero' dish? 
This mouth-watering vegan taco makes use of several food preservation techniques as well as rethinking existing ingredients. Shatta is a Middle Eastern chilli paste which is made by fermenting green chillies. Not only does this create a burst of flavour, but it preserves the lifespan of the chilli and creates a whole new ingredient. The 'quick pickle' miso cabbage also extends the life of the veg. The tomatoes also ensure kitchen waste is reduced, as any sliced tomatoes leftover from any burger prep are diced for this dish topping.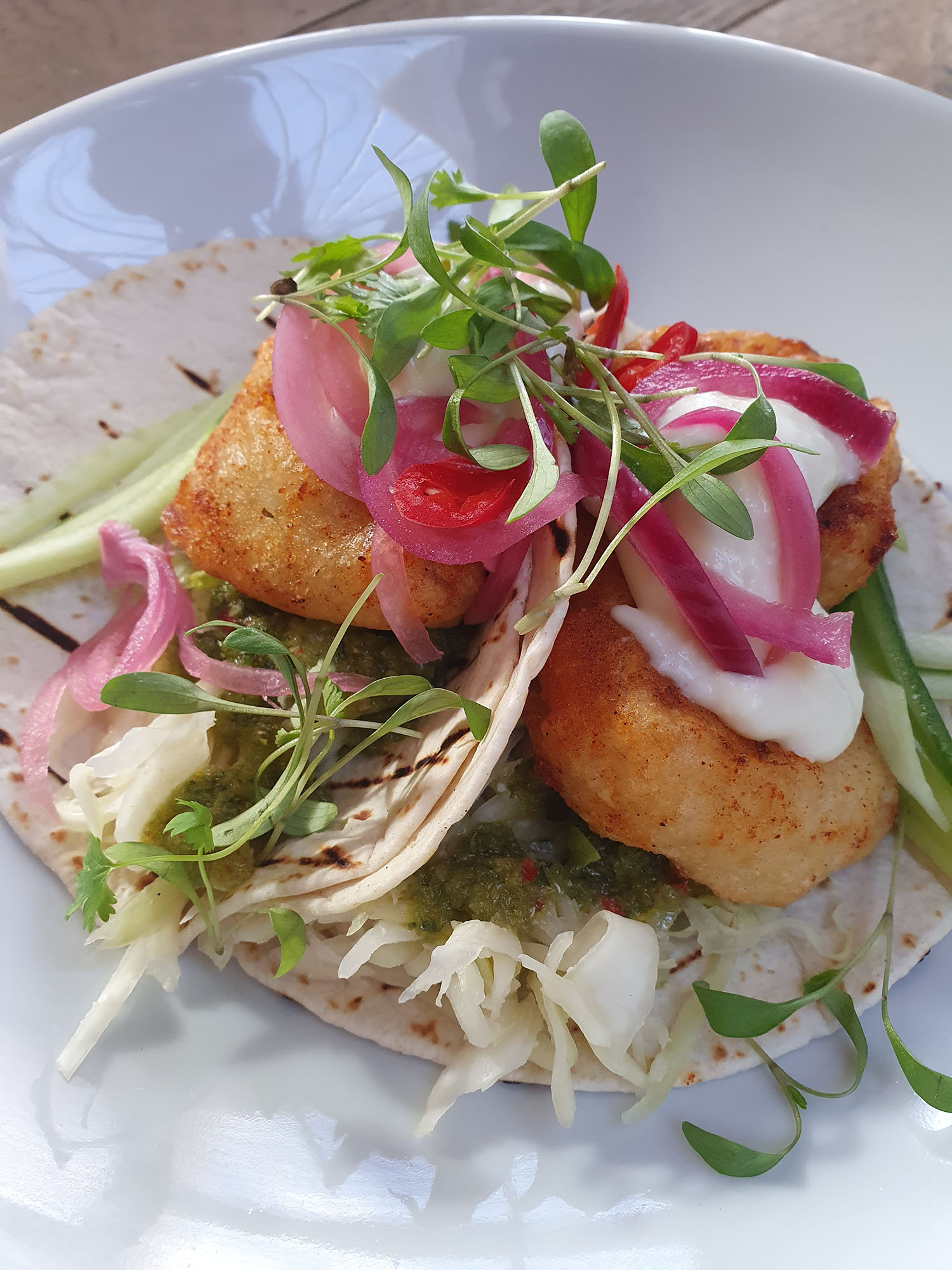 Please bear in mind...
*Dining options showcased on the Plate up for Glasgow site are examples only, and are subject to change.
Please bear in mind that as a food waste campaign that focuses on using surplus ingredients, dining options may change regularly. We think this is something that should be celebrated – although it does make it difficult to know in advance which options you'll be able to choose  from, or their availability. So when it's gone, it's gone. And when it's gone, there's no waste!
Participating venues are responsible for showcasing their own daily dining offers throughout the campaign period. We would strongly recommend contacting them directly to confirm details and availability before your visit to avoid disappointment.
Due to the nature of this campaign, catering for all dietary requirements may be limited. However, we have done our best to cater for as many needs as we can.
And of course, dining options are never created with ingredients that are past their sell-by date. "Leftover" food is just food that is surplus or unsold, which unfortunately happens all too often along food supply chains.