Bar, brunch and pub favourites with a twist
Find them at: 1179 Pollokshaws Rd, Shawlands, Glasgow G41 3YH
What it's all about:
Found in the heart of Shawlands in Glasgow's South Side, Phillies is the sort of place that you'll find yourself gravitating towards time and time again – because it knows what makes the people of Glasgow tick. Phillies is a spacious, industrial feeling venue, with softened edges and a soundtrack powered by vinyl. They have a meticulously fashioned craft beer selection on draft, including taps dedicated to local and independent guest breweries. You can also enjoy drinks to take away from their adjoining bottle shop Curious Liquids. The food menu is 'seasonal and soulful', with bar classics like burgers and pizza, done their own way. Not only that, but Phillies also host some great nights and events, including their weekly pub quiz and monthly Drag Bingo.
Example* 'Drink Hero' offering:
Leftover Orange Rum Gimlet
What makes it a 'Drink Hero' offering? 
One of Phillies' mostly commonly wasted food items is oranges. Mostly used as a drink garnish, fresh oranges are often disposed of at the end of the night, just because there's no other use for them. Not anymore! This cocktail sees any leftover oranges added to rum, infusing it to take on a delicious citrus note in this reimagined Gimlet. Going one step further, Phillies are even experimenting with using citrus peels to create their own in-house bitters. We love how an ingredient has been transformed from humble garnish to a cocktail centrepiece.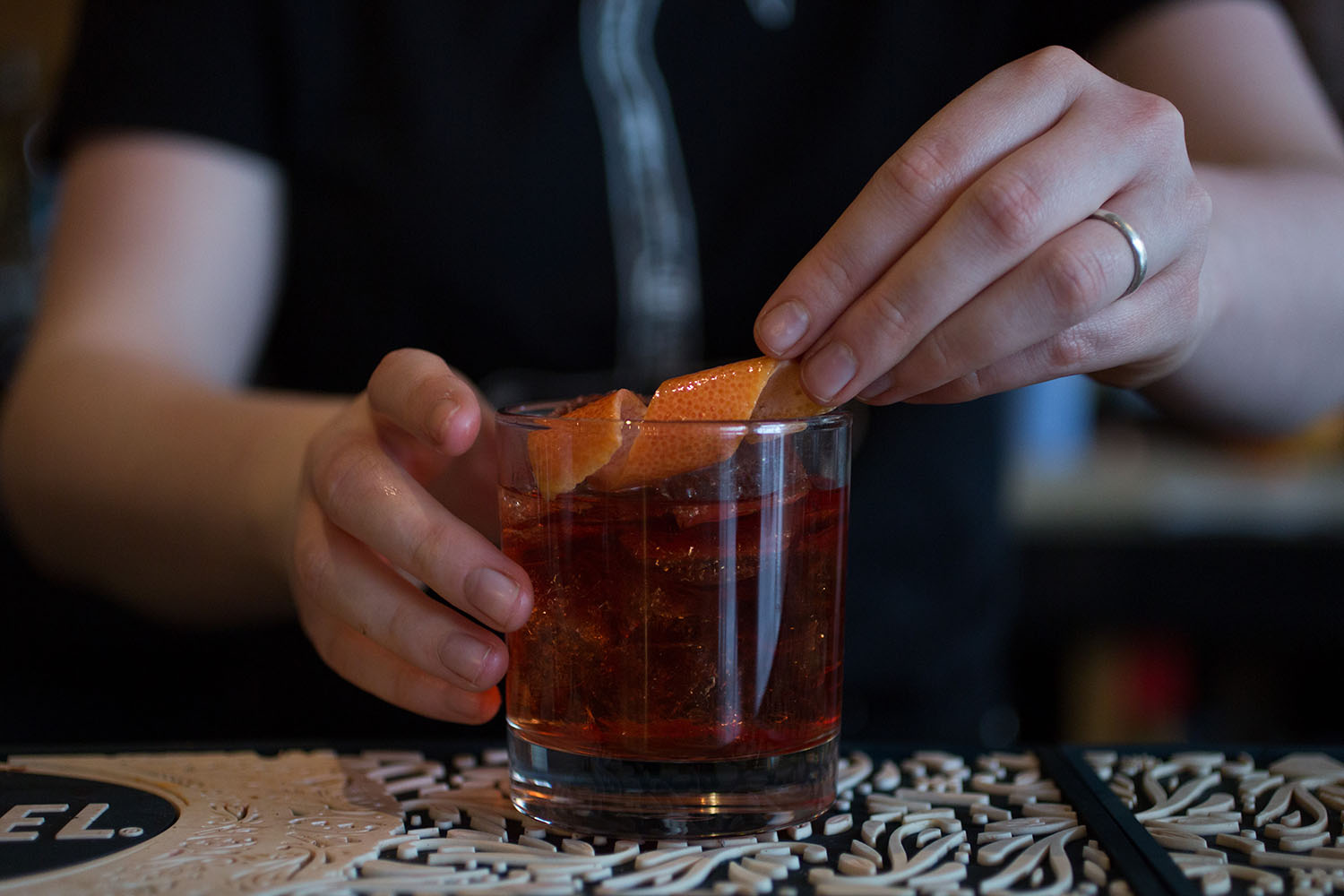 Please bear in mind...
*Dining options showcased on the Plate up for Glasgow site are examples only, and are subject to change.
Please bear in mind that as a food waste campaign that focuses on using surplus ingredients, dining options may change regularly. We think this is something that should be celebrated – although it does make it difficult to know in advance which options you'll be able to choose  from, or their availability. So when it's gone, it's gone. And when it's gone, there's no waste!
Participating venues are responsible for showcasing their own daily dining offers throughout the campaign period. We would strongly recommend contacting them directly to confirm details and availability before your visit to avoid disappointment.
Due to the nature of this campaign, catering for all dietary requirements may be limited. However, we have done our best to cater for as many needs as we can.
And of course, dining options are never created with ingredients that are past their sell-by date. "Leftover" food is just food that is surplus or unsold, which unfortunately happens all too often along food supply chains.