Find them at: 380 Great Western Rd, Glasgow G4 9HT
What it's all about:
Serenity Now is a family-owned vegan cafe in the heart of Glasgow's Kelvinbridge district. Since opening their doors in 2017, Serenity Now's colourful, creative and 100% plant-based brunches, baked goods and smoothies have earned them a reputation as one of the city's quirkiest and best-loved vegan eateries.
Example* 'Drink Hero' smoothie:
Serenity Now Sustainable Smoothie
What makes it a 'Drink Hero' smoothie? 
Our delicious low-waste smoothie is made with apple, kiwi, cucumber, mint, lime, ginger and kale - with the stalks, stems, skins and zest included! Blended with ice and coconut water, it comes served in a reusable glass jar that you can keep or return to the cafe for a discount on your next drink.
Example* 'Food Hero' dish:
As well as the Sustainable Smoothie, Serenity Now will also be offering a number of zero or low-waste specials and side plates throughout the campaign. Check their Instagram for daily changing dishes!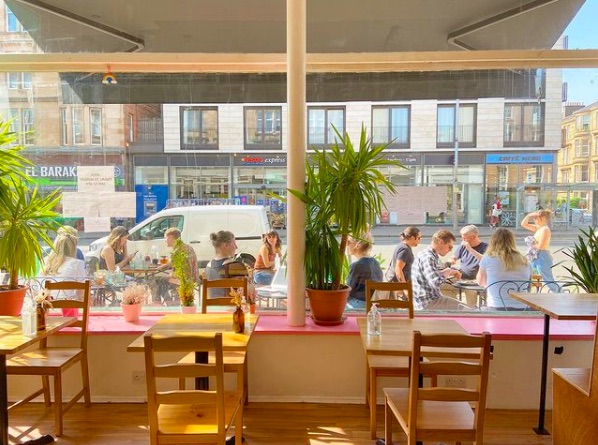 "As a vegan cafe, we are always aware of how our eating habits can affect the world around us, and how small changes in our attitudes towards food can be a catalyst for real change elsewhere. We also know how important environmental issues such as waste, sustainability and single-use plastics are to our customers, which is why we're so excited to be participating in the Plate up for Glasgow campaign."
-  Barry Nicolson, Owner, Serenity Now
Please bear in mind...
*Dining options showcased on the Plate up for Glasgow site are examples only, and are subject to change.
Please bear in mind that as a food waste campaign that focuses on using surplus ingredients, dining options may change regularly. We think this is something that should be celebrated – although it does make it difficult to know in advance which options you'll be able to choose  from, or their availability. So when it's gone, it's gone. And when it's gone, there's no waste!
Participating venues are responsible for showcasing their own daily dining offers throughout the campaign period. We would strongly recommend contacting them directly to confirm details and availability before your visit to avoid disappointment.
Due to the nature of this campaign, catering for all dietary requirements may be limited. However, we have done our best to cater for as many needs as we can.
And of course, dining options are never created with ingredients that are past their sell-by date. "Leftover" food is just food that is surplus or unsold, which unfortunately happens all too often along food supply chains.