Find them at: 973 Sauchiehall St, Finnieston, Glasgow G3 7TQ
What it's all about:
Soul Food Kitchen are one of Glasgow's true hidden gem venues that firmly deserves to be on everyone's radar. Launched with the aim of making nutritionally balanced, delicious plant-based food more accessible to the people of Glasgow, Soulfood Kitchen do exactly that. Sourcing ingredients from local suppliers ensures only the freshest produce is available. Working with sustainability in mind, all takeaway packaging is also fully compostable. As well as food offerings, Soulfood Kitchen also work with the community, holding workshops on everything from food photography to fermentation.
Example* 'Food Hero' dish:
Mystery Bowls and Mystery Cakes
What makes it a 'Food Hero' dish? 
Soulfood Kitchen work to ensure that nothing edible ends up binned at the end of the week. With reduced opening days (Friday – Sunday) due to Covid, every Sunday you can expect to find a Plate up for Glasgow 'Mystery Bowl', using up all of the tasty bits that didn't quite make it out of the kitchen the day before. Expect to find goodies such as glazed tofu, pak choi, nuts, seeds, seasonal veggies and sauces from buffalo to teriyaki.  Who doesn't love a surprise?
---

Example* 'Food Hero' dish:
Vegetable crackers with daily changing humous, and carrot muffins
What makes it a 'Food Hero' dish?
On Fridays and Saturdays you can still try a Plate up for Glasgow treat from Soul Food Kitchen, including some of their innovative ways of using up fruit and veg pulp leftover from their fresh cold pressed juices. Kale, apple, lemon and spinach are just some of the examples of ingredients you could find transformed into crackers to dip into a low waste humous.  Their carrot pulp is also cleverly used to make naturally sweet carrot muffins, ensuring all by-products find another way into your tummy.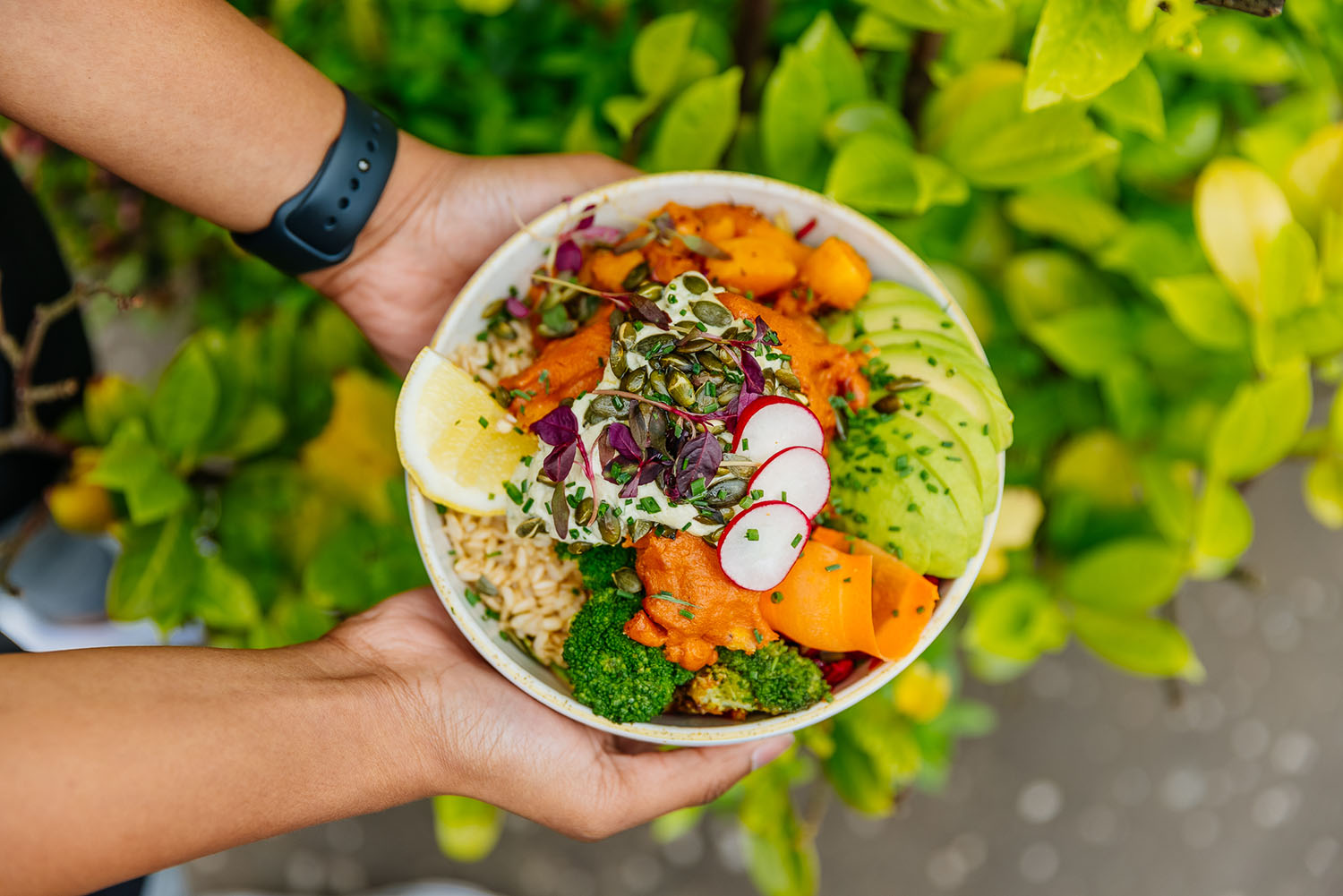 "We, at Soul Food Kitchen, feel passionate about serving healthy and delicious food to our customers, and we really don't want to see any extra food going into the bin when it could be used in a much more sustainable way. Reducing food waste is very important to us. Our chefs work hard to create our dishes, and we don't want to see their creations go into the bin when they can be shared with more and more people. So taking part is a win-win scenario."
- Bobby Bashir, Owner, Soul Food Kitchen
Please bear in mind...
*Dining options showcased on the Plate up for Glasgow site are examples only, and are subject to change.
Please bear in mind that as a food waste campaign that focuses on using surplus ingredients, dining options may change regularly. We think this is something that should be celebrated – although it does make it difficult to know in advance which options you'll be able to choose  from, or their availability. So when it's gone, it's gone. And when it's gone, there's no waste!
Participating venues are responsible for showcasing their own daily dining offers throughout the campaign period. We would strongly recommend contacting them directly to confirm details and availability before your visit to avoid disappointment.
Due to the nature of this campaign, catering for all dietary requirements may be limited. However, we have done our best to cater for as many needs as we can.
And of course, dining options are never created with ingredients that are past their sell-by date. "Leftover" food is just food that is surplus or unsold, which unfortunately happens all too often along food supply chains.