Salad bowls, lunch, take away only
Find them at: 241 Ingram St, Glasgow G1 1DA
What it's all about:
This hidden gem of a food takeaway spot can be found right in the centre of Glasgow, just a stone's throw away from the historic Gallery of Modern Art. Sprigg specialise in serving up fresh and healthy ingredients, bursting with colour and flavour, in salad bowls, deli pots and other treats, proving that eating on the go doesn't have to be unhealthy, expensive, or a sad supermarket sandwich.
Example* 'Food Hero' dish:
Szechuan pickled broccoli stalks
What makes it a 'Food Hero' dish? 
Broccoli florets are one of the most popular ingredients ordered for lunch salad bowls at Sprigg, which would usually mean a lot of discarded broccoli stalks. As part of our Plate up for Glasgow dish, Sprigg are marinating the stalks in a Szechuan dressing to create a whole new deli pot offering – a perfect accompaniment to an on-the-go lunch bowl, or to take home as a side dish to your dinner.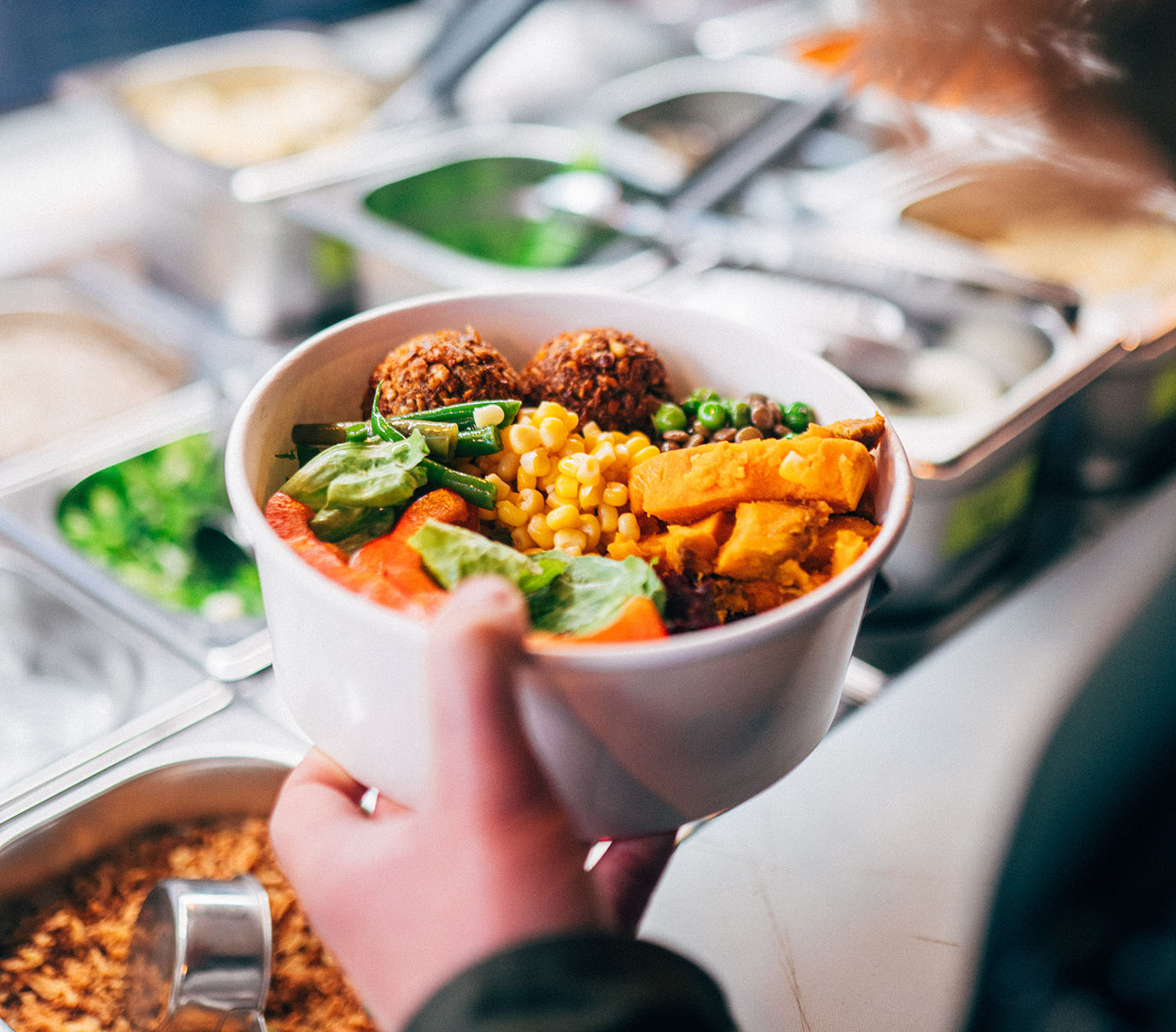 "We're excited by the opportunity to learn from and collaborate with such an influential group of people and businesses from Glasgow's food scene. Campaigns such as Plate up for Glasgow are critical to raising awareness on how to reduce waste. Excessive food waste can be so debilitating for businesses and the environment yet with some thought and small effort can be hugely reduced or avoided altogether."
-  Tom McDermot, Business Owner, Sprigg
Please bear in mind...
*Dining options showcased on the Plate up for Glasgow site are examples only, and are subject to change.
Please bear in mind that as a food waste campaign that focuses on using surplus ingredients, dining options may change regularly. We think this is something that should be celebrated – although it does make it difficult to know in advance which options you'll be able to choose  from, or their availability. So when it's gone, it's gone. And when it's gone, there's no waste!
Participating venues are responsible for showcasing their own daily dining offers throughout the campaign period. We would strongly recommend contacting them directly to confirm details and availability before your visit to avoid disappointment.
Due to the nature of this campaign, catering for all dietary requirements may be limited. However, we have done our best to cater for as many needs as we can.
And of course, dining options are never created with ingredients that are past their sell-by date. "Leftover" food is just food that is surplus or unsold, which unfortunately happens all too often along food supply chains.