Find them at: 22 Renfield Ln, Glasgow G2 5AR
What it's all about:
Tucked away on Renfield Lane, Stereo is a hidden haven of sensory delights, offering everything from vegan food and drink to gigs and club nights. Stereo has long been a go-to destination for those in the know, with its cool interiors and playlists attracting a wide and varied clientele. It's a must visit destination if you haven't already.
Example* 'Food Hero' starter dish:
Climate Saving Cauliflower Crumble
What makes it a 'Food Hero' dish? 
Cauliflower preparation can be a wasteful process, with the stalk and outer leaves often being discarded. Stereo already works to reduce food waste by turning the stalk into a puree, and serving with broccoli, on their main menu. For their Plate up for Glasgow dish they're roasting the leaves and topping it with a crumble made of discarded loaf ends and cracked corn tortillas. To top it off, this Climate Saving Crumble is seasoned with chilli salt, made by dehydrating the leftovers when making their in-house hot sauce, and drizzled with oil blended with the chopped chives and spring onions left over from the day before.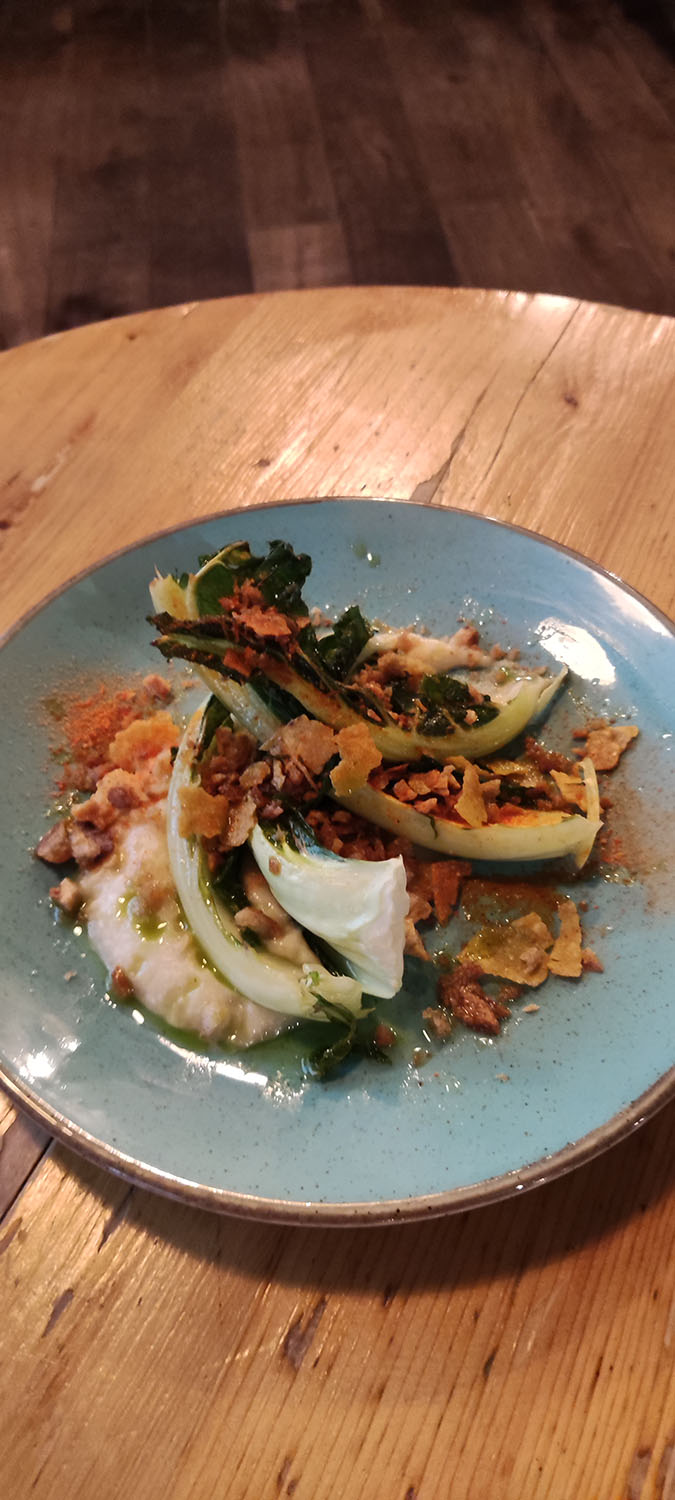 "Being a vegan establishment, the ethics of food production and consumption have been a priority for us from the very start. A few dishes on the menu contain repurposed "food waste" already, and naturally we feel we can contribute towards Plate up for Glasgow and its message of reducing food waste." 
- Matthew, Head Chef, Stereo
Please bear in mind...
*Dining options showcased on the Plate up for Glasgow site are examples only, and are subject to change.
Please bear in mind that as a food waste campaign that focuses on using surplus ingredients, dining options may change regularly. We think this is something that should be celebrated – although it does make it difficult to know in advance which options you'll be able to choose  from, or their availability. So when it's gone, it's gone. And when it's gone, there's no waste!
Participating venues are responsible for showcasing their own daily dining offers throughout the campaign period. We would strongly recommend contacting them directly to confirm details and availability before your visit to avoid disappointment.
Due to the nature of this campaign, catering for all dietary requirements may be limited. However, we have done our best to cater for as many needs as we can.
And of course, dining options are never created with ingredients that are past their sell-by date. "Leftover" food is just food that is surplus or unsold, which unfortunately happens all too often along food supply chains.