Scottish seafood and cocktails
Find them at: 1125 Argyle St, Finnieston, Glasgow G3 8ND
What it's all about:
The Finnieston has been a go-to venue for Glasgow diners for years, and it's not hard to see why, offering some of the city's finest Scottish seafood. All fish and seafood are ethically sourced from local suppliers – to the point where portraits of the fisherman hang from the dining room walls. But it's not just seafood that this place is serious about. The Finnieston is Glasgow's premier gin cocktail bar, stocking over 60 gins including plenty of innovative Scottish small batch distilleries.
Example* 'Food Hero' starter dish:
Lemon & Thyme Peterhead Cod-Belly Mousse, Leek Consomme, Herb Oil, Cod Crackling
What makes it a 'Food Hero' dish? 
Using the belly and trimmings of the cod dish currently on the menu, this elegant starter makes use of parts of the fish that are just as delicious but often far less celebrated. The cod crackling is great way of using the fish skin while also adding another textural element to the dish.
---

Example* 'Food Hero' main dish:
Loch Melfort Sea Trout, Cabbage, Cider, Pancetta, Salted Trout-Head Butter, Smoked Roe Salt
What makes it a 'Food Hero' dish? 
This sea trout dish uses the whole fish, from its nose to its tail, and while it may sound simple, this dish packs a real punch. The fish is basted with lashings of butter that has had a concentrated fish stock (made from the heads and trim) whipped through it to maximise flavour. The trout is plated and finished with some smoked roe salt, which tops off a dish that has layers of unique flavours... all generated from a single fish!
---

Example* 'Drink Hero' cocktail:
The Finnieston Sling (gin, citrus oleo, tepache, cherry)
What makes it a 'Drink Hero' cocktail? 
This cocktail, created by in-house bartender Rana, makes use of ingredients a second time over. The skin of the pineapple, a waste product from making pineapple syrup, is blended with aromatic spices and turned into a tropical fermented beer. The citrus oleo, a tart citrus syrup, is also created using unwanted citrus skins. When left in sugar, the citric oils are pulled out, resulting in an almost sherbet-like flavour. This cocktail has true holiday vibes – something we're all in need of!
---

Example* 'Drink Hero' cocktail:
The Finnieston Spritz (Grapefruit shrub, sweet vermouth, prosecco and soda)
What makes it a 'Drink Hero' cocktail? 
The Finnieston's take on a sbagliato sees a low-waste homemade grapefruit shrub replace the classic Campari element. At The Finnieston, the bar only ever uses grapefruit peels, which are served as a garnish on other cocktails – leaving the flesh and juice going to waste. The grapefruit shrub, a ferment made with sugar and vinegar, sees the flesh and pith of the fruit finding a new purpose. This delicious ingredient adds a bitterness normally found in Campari, as well as acidity and burst of citrus.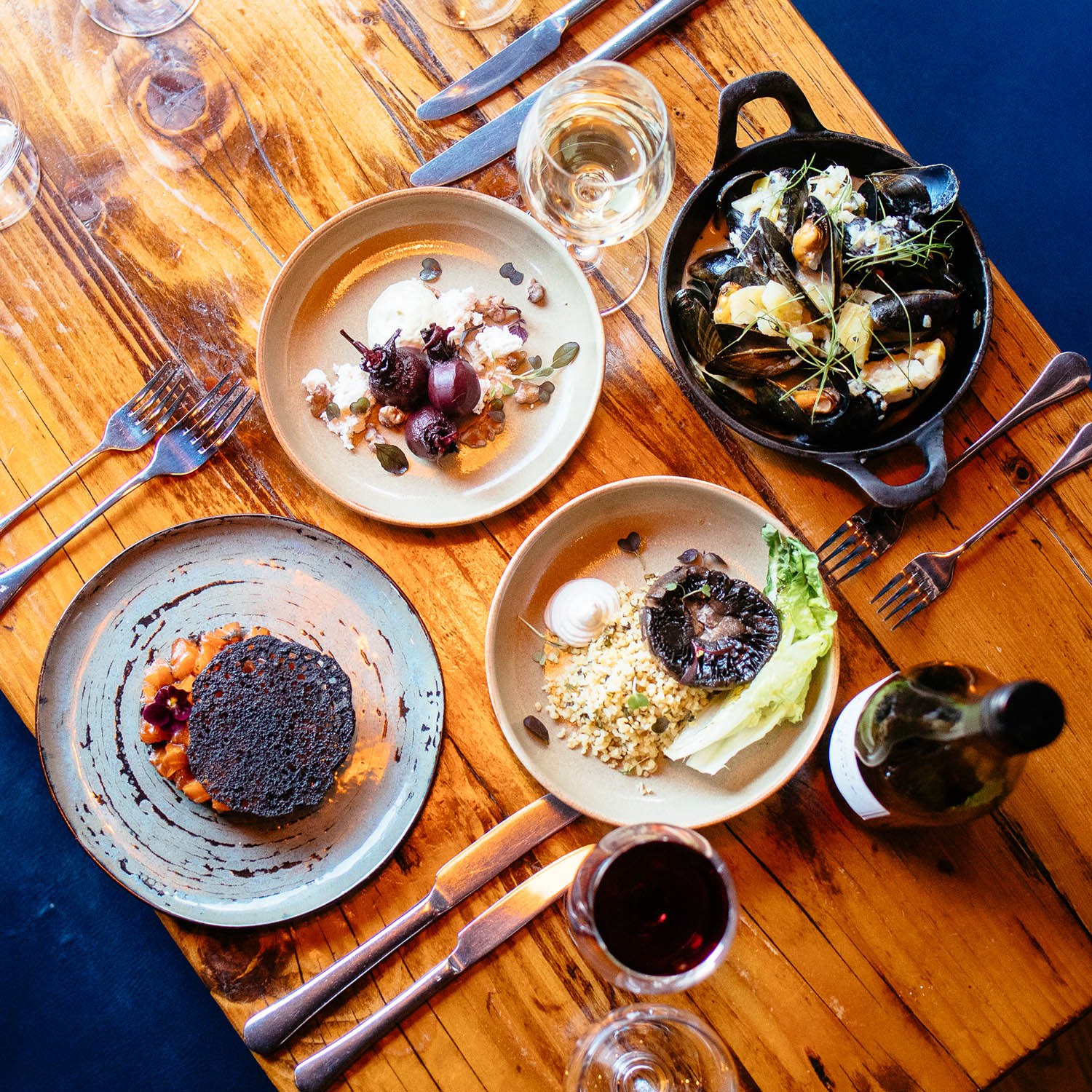 Meet the faces behind the campaign
Please bear in mind...
*Dining options showcased on the Plate up for Glasgow site are examples only, and are subject to change.
Please bear in mind that as a food waste campaign that focuses on using surplus ingredients, dining options may change regularly. We think this is something that should be celebrated – although it does make it difficult to know in advance which options you'll be able to choose  from, or their availability. So when it's gone, it's gone. And when it's gone, there's no waste!
Participating venues are responsible for showcasing their own daily dining offers throughout the campaign period. We would strongly recommend contacting them directly to confirm details and availability before your visit to avoid disappointment.
Due to the nature of this campaign, catering for all dietary requirements may be limited. However, we have done our best to cater for as many needs as we can.
And of course, dining options are never created with ingredients that are past their sell-by date. "Leftover" food is just food that is surplus or unsold, which unfortunately happens all too often along food supply chains.