Neighbourhood café and restaurant
Find them at: 66 Hyndland St, Partick, Glasgow G11 5PT
What it's all about:
Zique's is a charming neighbourhood café, restaurant and bar that has been serving great quality, homemade fare to the locals of Partick and Hyndland for years. Catering to pretty much any food craving, from home baked pastries to oysters at brunch, or late-night small plates in the evening, if you haven't eaten at Zique's before, you're missing a trick!
Example* 'Food Hero' dish:
Charred hispi cabbage, mushroom ketchup, roasted peanuts
What makes it a 'Food Hero' dish? 
This dish sees no part of the cabbage going to waste, as the whole vegetable – from stalk to outer leaves – ends up on the plate. The cabbage is served alongside a mushroom ketchup, made from the trim of the flat cup mushrooms (found on the brunch menu), reduced down with a sugar, soya and apple cider vinegar to create an earthy sweet sauce, way more exciting than your bog-standard tomato ketchup! A 'green goddess' dressing finishes the dish, packed with whichever herbs from the decking garden are most plentiful.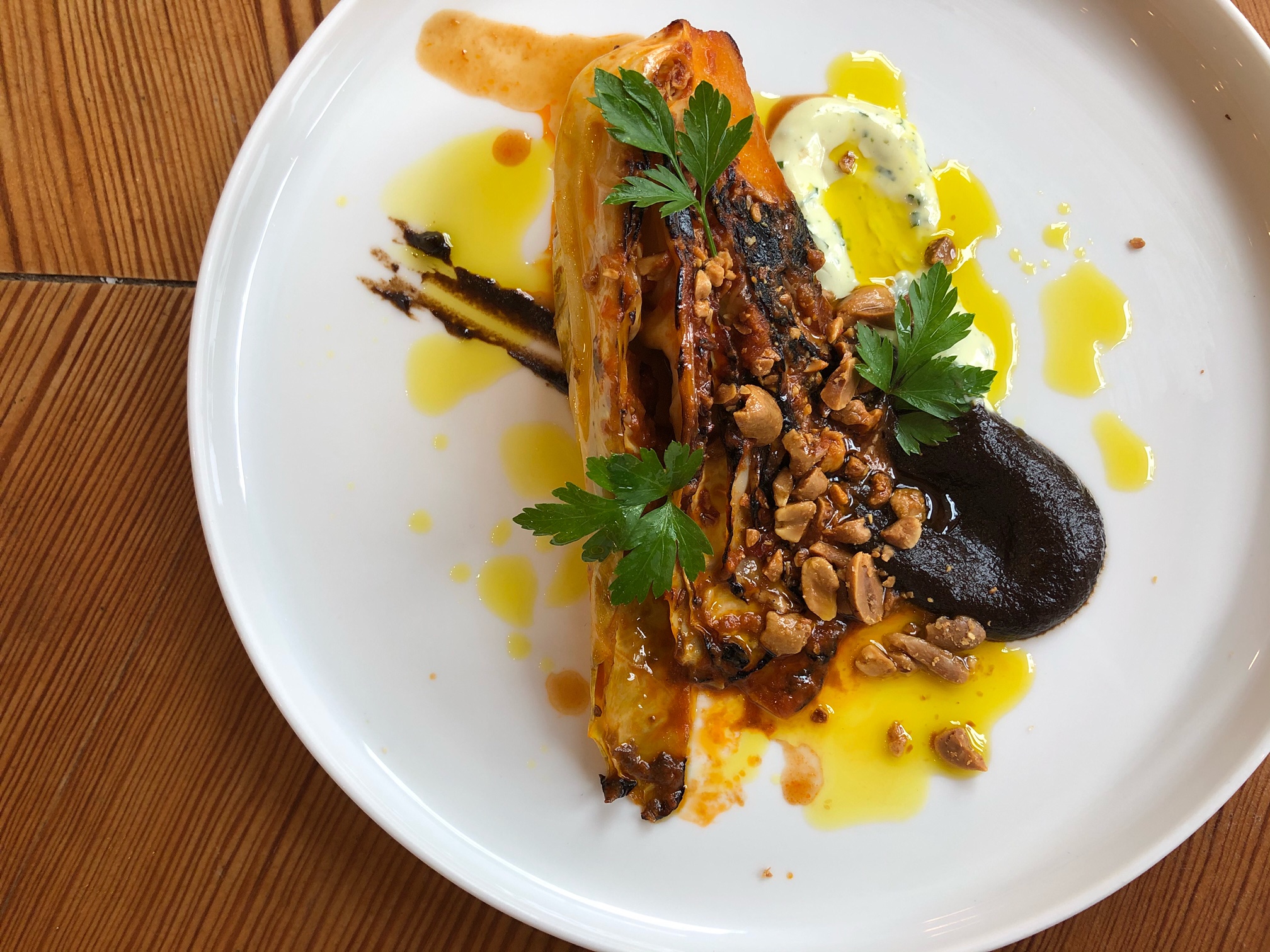 "When we heard about Plate up for Glasgow we were excited to get involved. We've always been proud to cook seasonally, from scratch, whilst supporting local business.  Being environmentally friendly and working hard on ways to reducing our waste, we pride ourselves on still being able to create amazing dishes that our customers love. Reflecting with our own ethos, the team at Zique's are 100% behind the campaign.
It's a difficult time when so much food and resources are being wasted and this is a great opportunity to highlight small, positive changes that can make a big difference."
-  Bradley Potterton, Assistant Manager, Ziques
Please bear in mind...
*Dining options showcased on the Plate up for Glasgow site are examples only, and are subject to change.
Please bear in mind that as a food waste campaign that focuses on using surplus ingredients, dining options may change regularly. We think this is something that should be celebrated – although it does make it difficult to know in advance which options you'll be able to choose  from, or their availability. So when it's gone, it's gone. And when it's gone, there's no waste!
Participating venues are responsible for showcasing their own daily dining offers throughout the campaign period. We would strongly recommend contacting them directly to confirm details and availability before your visit to avoid disappointment.
Due to the nature of this campaign, catering for all dietary requirements may be limited. However, we have done our best to cater for as many needs as we can.
And of course, dining options are never created with ingredients that are past their sell-by date. "Leftover" food is just food that is surplus or unsold, which unfortunately happens all too often along food supply chains.